ONLINE Masterclasses with the Polestar masters
AROUND THE WORLD WITH POLESTAR MASTERCLASSES
IT'S BACK! AROUND THE WORLD  – PART II
If you're looking for ways to keep moving, informed and inspired from the comfort of your home or home studio, you can now attend masterclasses streamed live from around the world with the Polestar master educators. Choose and book classes from the schedule below. 
COST:  $25 per single class or $100 for a 5 Pack (Save $25)
HOW TO BOOK:
Select the BOOK NOW button above.  
We use the MindBody booking system. If you don't have an account with us already, you will need to create one, it only takes a minute. If you use MindBody at your studio too, remember to log out of your account first. 
Once you've logged in, purchase your class or package and then go to the CLASSES tab to BOOK the class you wish to join.  Remember to book all 5 classes on the different days if you are buying the 5 pack.
If you're unable to join LIVE, don't worry ALL CLASSES ARE RECORDED, so the replay link will be emailed to you and available for 1 week.
All bookings close 24hrs prior to class start.  You will receive the ZOOM link at least 2hrs prior.  Please login at least 10 minutes prior to class to be ready to go.  Can't wait to see you online.  
Remember all times are AEDT – Australian Eastern Daylight Time (Sydney, Melbourne, Canberra)
ARC MASTERCLASS Live from GERMANY with ALEXANDER BOHLANDER
6PM AEDT - SUNDAY 30TH OCTOBER 2022
Arc de Triomphe
Shape your spine with the spine corrector/arc and stay true to Josephs quote: "If your spine is completely flexible when your 60 your are 30!"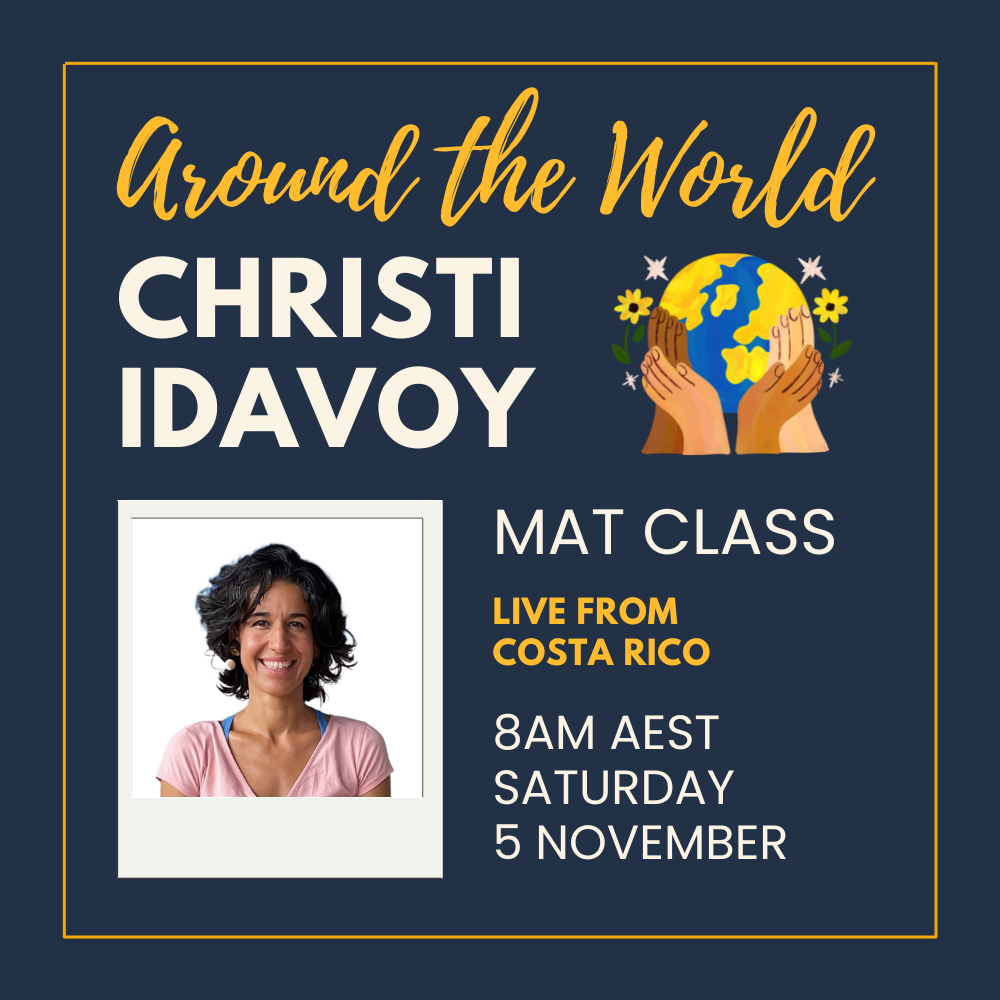 MAT MASTERCLASS LIVE FROM COSTA RICO WITH CHRISTI IDAVOY
8AM AEDT - SATURDAY 5TH NOVEMBER 2022
Release to Reset
This Mat master class will focus on creating space in the body and mind. Using the breath and creative movement sequences, you will mobilize your entire body. Get ready to let go of stagnant energy and feel more supple and youthful!
REFORMER MASTERCLASS LIVE FROM BRAZIL WITH ALICE BECKER
8AM AEDT - SATURDAY 12 NOVEMBER 2022
Reformer Challenging Class!
Come and play with the infinite possibilities this equipment offers, developed from the profound foundations and understanding of movement quality that Polestar brings to the Pilates community. With my experience as professional dancer for over 40 years, and adding fascial training qualities do traditional Pilates exercises, we will explore a fun and creative repertoire, with flowing transitions between exercises, that will challenge your strength, mobility, control, proprioception, movement distribution, coordination and full body integration.
reformer Masterclass Live from NORTH CAROLINA USA WITH BRENT ANDERSON
8AM AEDT - SATURDAY 19 NOVEMBER 2022
Reformer Class
Enjoy rhythmic and fluid Reformer class with Brent Anderson.  Focus will be on builds, quick transitions and whole-body work out.  Benefit from masterful cueing and simplicity of his class.
CHAIR Masterclass Live from NORTH CAROLINA USA with Shelly Power
8AM AEDT - SATURDAY 26 NOVEMBER 2022
No Sitting Allowed – Chair Class
Join Shelly for a fun class with traditional and creative Chair exercises.  The Chair is the ideal piece of Pilates equipment to practice functional movements for day-to-day living, improving postural awareness and having fun!
IMPORTANT INFORMATION
Please register for each class early, up to an hour before class start. If you're unable to join LIVE, the replay will be available later.
Your ZOOM link will be emailed to you 30 minutes prior to the class. Please login 10 minutes prior to make sure your screen and audio are all setup and ready to go.  
See you online!!!
Do you have questions or feedback?
We would love to hear from you. Please use the form below to send your message and we'll get in touch with you as soon as possible.